How Osteopaths can help AFL footballers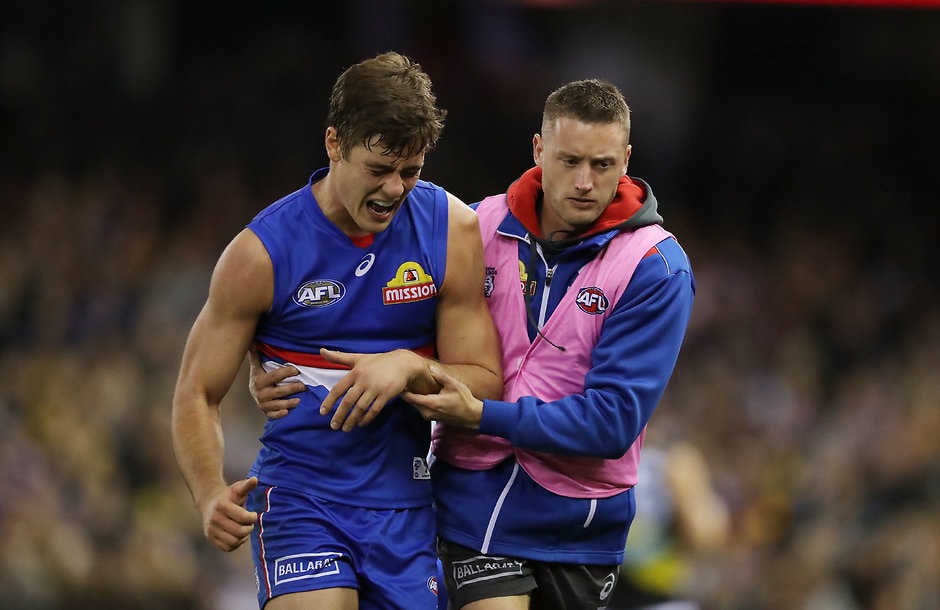 AFL football is a high impact sport full of bursts of intense acceleration, changes of direction, jumping, landing, over a long period of time.
These forces invariably take a toll on the body, with almost every footy player suffering from some sort of injury over the season – anything from a 'niggle', corkies, sprains and strains, through to fractures, dislocations and ruptures that can end more than your footy season!
Let us run through a few ways that our Osteopaths can help:
For Players
As a player, you undoubtedly know the pain and frustration of getting injured. If you can play through it, it usually reduces your performance. If you are missing games and training, both you and the coaches start getting grumpy very quickly! So what should you do?
The first focus should be injury prevention. Stay on top of training loads (ie don't overdo it in preseason!), be mindful of what you're doing in the gym, and at work. More is not always better. Having said that, there are so many injuries that could be prevented if players actively challenged themselves in areas where perhaps they aren't so good – balance/control/endurance compared to just pure strength or acceleration. Find out what you are lacking in, and train it!
This means having a good understanding of your capacity, and working closely with the trainers and coaches to identify weak spots. As osteopaths, the first thing we do is assess you thoroughly looking for areas of poor force transmission, force absorption, or force production. These skills are key components of stability, flexibility and strength.
If you are lacking in stability, you will never be able to express your full range of motion – your body will reflexively protect against it. Or it should, unless you want to injure something at end range where you aren't stable enough to control it! If you are lacking in flexibility, you are more likely to see joint sprains and muscle strains, and if lacking in strength you can see tears or repetitive strain injuries.
A good osteopath will identify what you need to work on, and show you how to do it. We use manual therapy (massage, manipulation, dry needling etc) to create mobility, then we teach you how to use it efficiently, and set a training program for you to build strength and endurance.
–It's too late, I'm already injured!–
Let us manage your pain, support the injured area if required (tape, brace etc), mobilise as pain and swelling allows, enhance local circulation and drainage and guide you through return to loading. We want you back on the park as much as you do!
For Coaches
Coaches want to win. They want to be able to pick their best players, without the headache of injury management. Nothing annoys them more than players not doing the right thing by their injury – not because it likely prolongs the players recovery, but because each player has a responsibility to the team to be a part of it, not sitting on the sideline.
Our Osteopaths can make coaches lives easier by managing the injuries, providing them with an accurate diagnosis and likely timeframe for return to sport, along with guidelines about what to do / not do in the early stages of back to sport. We will do our very best to ensure that coaches have a full team to pick from, and that those players know exactly what they should and shouldn't be doing to manage themselves.
For Trainers
Trainers are the key to keeping a team on the park every week. Good trainers will proactively protect players from injuries with strapping/taping, massage, and advice. They will also work hard to keep niggles from turning into nasties.
Trainers are the go-between for coaches to know what's going on with players, and for players to communicate how their body is feeling to the coach. This communication helps coaches determine training loads and intensities, and players to get help when they need it.
Trainers though are often spread thin, and their ability to manage an entire squad's worth of injuries both minor and major, is an extremely difficult job.
Our Osteopaths can then help with far more specific, detailed injury assessment, management and rehabilitation. We can provide detailed information back to the trainers to make their lives much easier going forwards! What we provide to trainers is someone to go to when players need more help than they feel comfortable or capable of providing. Our experience, training and particular skill sets have proved themselves very useful to trainers of all sports over many years! A good osteopath that you can form a close relationship with, and trust implicitly, is a great asset to a trainers clinical network.
You can contact us to have a chat about anything footy related on 9088 0793. We're happy to chat to players, coaches, and trainers!